About Mr. ITO Yoshitaka (1919-2000)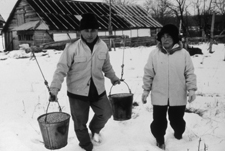 Mr. ITO Yoshitaka, a farmer, started feeding cranes in 1966, while also doing the farm work in Tsurui Village. Later he assumed a responsibility of "Tancho Feeder" (1968 - 1996) and "Tancho Guardian" (1981-2000) at the request of Hokkaido government, and devotedly supported Tancho conservation. In 1987, Tsurui-Ito Tancho Sanctuary was established on his farming land in an agreement with Wild Bird Society of Japan.
At the Sanctuary, he worked as a Tancho ranger and had been a reliable advisor to researchers and volunteers. He was a man of few words, but had a grounded vision and was truly gentle with people as well as animals.
To the question why he had fed cranes for these thirty years, he said, " It was not a special deed for me, because from my childhood I had watched cranes forage in the field covered with snow. So I thought someone had to help feed them."
His devotion to crane conservation for half of his 81- year life made the Sanctuary a main Tancho conservation center. The number of cranes coming to the feeding ground is now up to over 300, which is 150 times than the first year, which was only one pair.