Kushiro Shitsugen Wetland
Kushiro Shitsugen Wetland is the largest wetland in Japan with an area of 18,000ha which extends to the north of Kushiro City in eastern Hokkaido. It was designated as a National Natural Monument in 1967 and as Japan's first Ramsar Site in 1980. In July 1987, it was also designated as the 28th National Park of Japan. Then Wild Bird Society of Japan (WBSJ) selected Kushiro Shitsugen as one of the 167 IBAs (Important Bird Area).
Kushiro Shitsugen was once a part of the sea, but as the sea retreated and a spit developed in the opening to the Pacific Ocean, the area turned into a blackish lake. For about 3,000 years, peat has been piling up at the bottom of the lake inside the spit, and gradually the current wetland has been formed. While about 80% of the vast wetland area is low moors covered with reeds and sedges, the central part is studded with high moors covered with sphagnums and intermediate moors with the TSURUKOKEMOMO Vaccinium oxycoccos which are in the process of transition from low moors to high moors.
In the surrounding area of Kushiro Shitsugen, the Kushiro-gawa river slowly snakes its way with branching braided streams all around. There are three inland sea-lakes, Lake Tohro-ko, Shirarutoro-ko and Takkobu-ko in the eastern wetland. East, north and west sides of the wetland are hilly zones where natural forests expanded once before.
Kushiro Shitsugen supports rich biodiversity; about 600 species of plants, 26 species of mammals, 9 species of amphibians/reptiles, about 170 species of birds, 1,150 species of insects and 34 species of fish have been identified so far.
It is well known that the Red-crowned Crane Grus japonensis, which lives only in some parts of Far East Asia, occurs here. The population of the Red-crowned Crane declined due to over-hunting and environmental changes and it was once considered extinct around 1900. The number of the Crane has recovered by various conservation efforts and today the bird can be seen mainly in Kushiro Shitsugen in the east of Hokkaido. In addition to the Crane, the Blakiston's Fish Owl Ketupa blakistoni, White-tailed Eagle Haliaeetus albicilla, Steller's Sea Eagle Haliaeetus pelagicus and Black Woodpecker Dryocopes martius are the representative bird species observed in this area, and many other wildlife including the Japanese Huchen Hucho perryi (fish) and Siberian Salamander Salamandrella keyserlingii (amphibia) also occur here. As habitats suitable to these rare species are quite limited, Kushiro Shitsugen plays a central role in their habitats.
In recent years, the environment in Kushiro Shitsugen has been suffering such as the decrease of wetland areas caused by industrial developments and its aridification. Taking such a situation into consideration, the Kushiro Shitsugen Nature Restoration Council was founded by concerned central government ministries, local governments, experts, NGOs and local residents, and various plans are being developed to restore the nature of the wetland.
1.Kushiro Shitsugen Wetland (view from Hosooka Viewing Platform)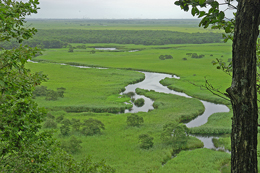 2.Kushiro Shitsugen Wetland (Kirakotan-misaki)