Activities
WBSJ rangers always stay at Utonai-ko Sanctuary to engage in various conservation activities for Lake Utonai-ko and the surrounding areas.
1. Environmental Research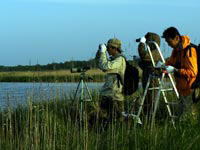 Research is conducted to allow for adaptive management strategies. This helps to maintain our sanctuary's natural environment in good condition.
2. Environment Management

We formulate the environmental conservation plans and conduct the conservation activities for the natural environment and birds listed as endangered bird species.
3. Promotion and Education
We have photos, pictures and other items on display introducing the natural environment of Lake Utonai-ko and the activities of our sanctuary in the Nature Center.
We give information and explanations about the natural environment of Lake Utonai-ko to visitors
We provide elementary schools with the environmental study programs at Lake Utonai-ko, and citizens' groups with paid guides.
We lead nature tours for citizens at Lake Utonai-ko and Yufutsu- genya plain.
We have published "Gan-Kamo Teachers' Guide" which gives the explanations about waterbirds, and are working to promote it.
4. Other Activities
We also engage in conservation activity that includes the surrounding areas of Lake Utonai-ko such as Yufutsu-genya plain.